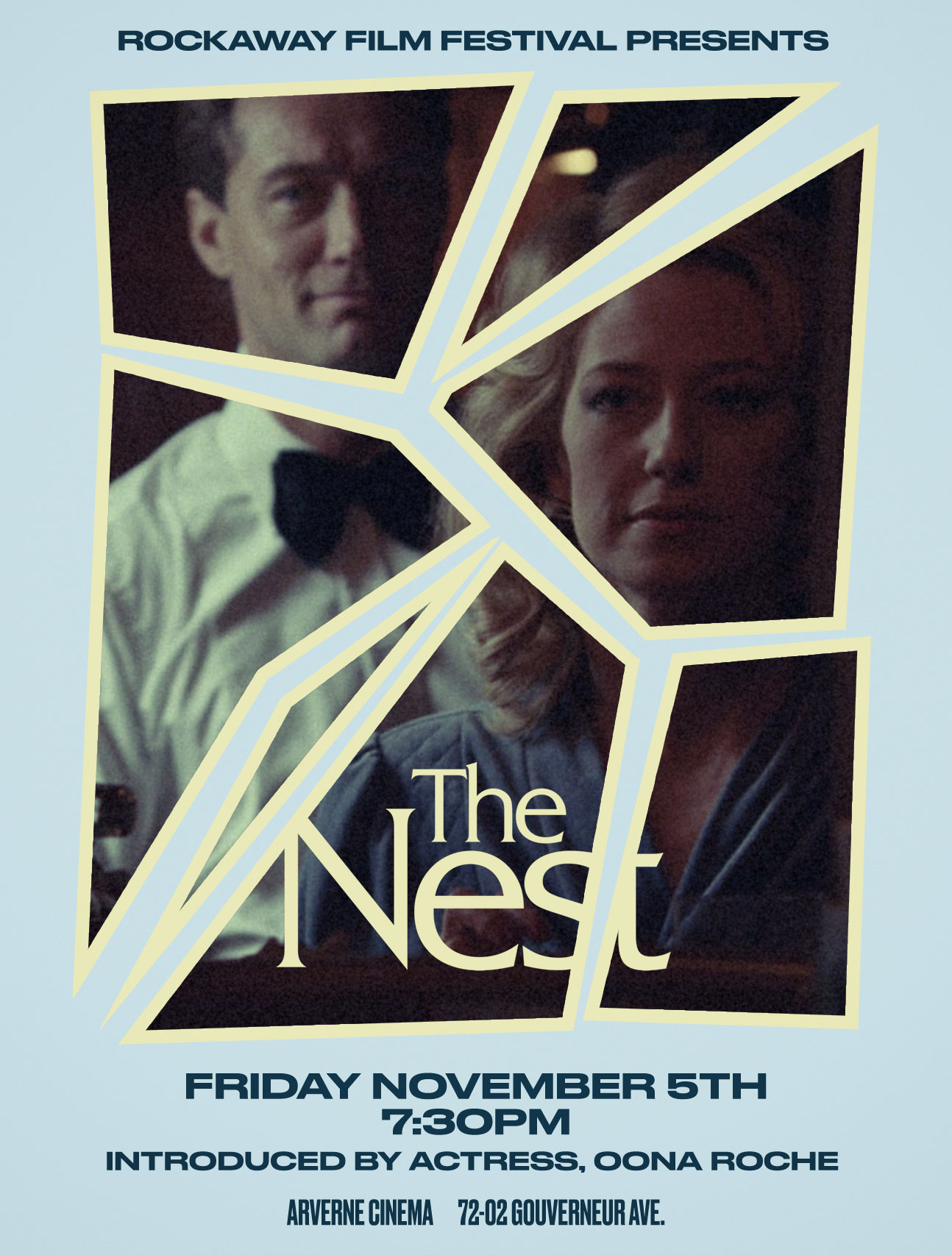 FRIDAY, Nove

mber 5th
7:30pm
THE NEST
by Sean Durkin. 2020. 107 min.
The pandemic took a toll on many great films that were slated for release over the last couple of years —
The Nest
is one of them. Sean Durkin's second feature is a sharp family drama about a crumbling marriage and the incessant desire for more, even when there is plenty.
The Nest
features tremendous performances from Jude Law, Carrie Coons, and Rockaway's own, Oona Roche.
Stick around for a post-screening discussion with Oona Roche.
*this is an outdoor screening, so bundle up!
La Cevicheria
will be serving hot chowder.
*postponed to SUNDAY 10/31 due to weather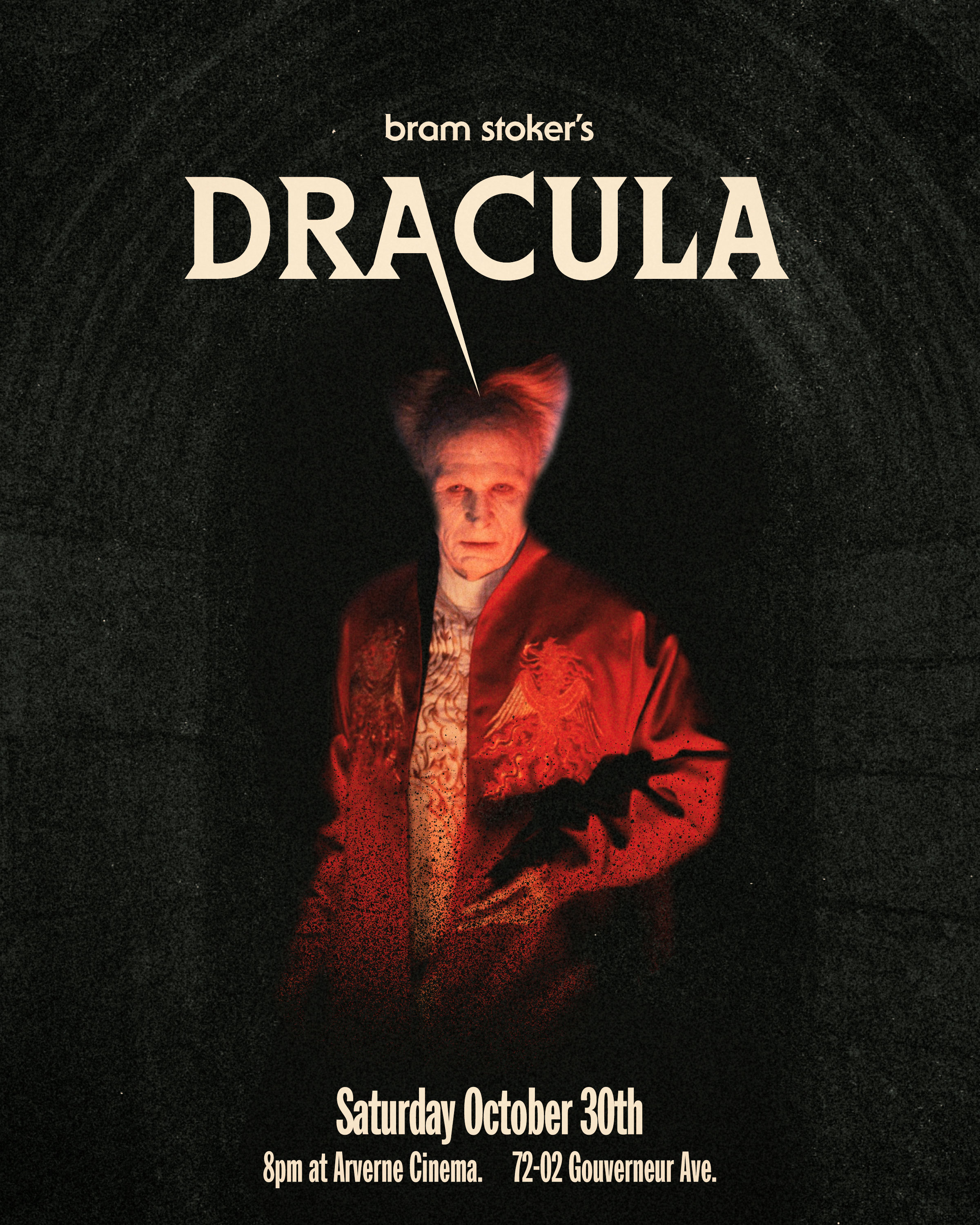 8:00pm

BRAM STOKER'S DRACULA by Francis Ford Coppola. 1992. 128 min.

In Bram Stoker's Dracula, Coppola returns to the original source of the Dracula myth, and creates a modern masterpiece from that gothic romance. Gary Oldman's metamorphosis as Count Dracula, who grows from old to young, from man to beast, is nothing short of amazing. Winona Ryder brings equal intensity to the role of a young woman who becomes the object of the vampire's devastating desire. Keanu Reeves shines as a laconic barrister who travels to Transylvania to do business with the Count but instead finds himself imprisoned in Dracula's gloomy castle. Anthony Hopkins co-stars as the famed doctor who dares to believe in Dracula, and then dares to confront him. Opulent, dazzling, and utterly irresistible, this is Dracula as you've never seen him before. And once you've seen Bram Stoker's Dracula, you'll never forget it.


*postponed to SUNDAY 10/31 due to weather
Local Filmmakers' Night

SUNDAY

, October 31st
7:00pm
Join us for this special screening of recent short films by Rockaway filmmakers.
THE UNFORTUNATE DEMISE OF FINLEY PINKLE
by Nick Bendick & Eugene Cleghorn. 2017. 3 min.
PAYBACK'S A BIRCH
by Nick Bendick, Eugene Cleghorn & Tyler Wright. 2017. 10 min.
ORDINARY WORLD by Kendra Heisler & Arielle Yoder. 2021. 13 min.
THE KNOT by Rebecca Schwab. 2020. 12 min.
RIIS by Jacob Menaged. 2021. 20 min.
Post-screening discussion with the filmmakers.
.
5:30pm
In a special collaboration with the New York City Department of Parks and Recreation (
NYC Parks
) and Jamaica Bay-Rockaway Parks Conservancy (
JBRPC
), we're thrilled to present a summer series of free sunset films at
O'Donohue Park
. These films were selected to celebrate the unique Rockaway landscape and community as the city continues to slowly reopen.
O'Donohue Park, located between Beach 9th and Beach 17th Streets along the Rockaway Beach Boardwalk, hosts stunning views of coastal dunes, Rockaway Inlet, and the Atlantic Ocean, sure to make a memorable outdoor film experience for all. Bring blankets, beach chairs, and good vibes!
SATURDAY, August 28th
6:30pm
LIVE PUPPET SHOW: THE OSPREY OF HOPE

Join Gateway National Recreation Area Park Rangers for a story about New York City, the animals who live here, and the power of cooperation. Learn about the effects of deforestation and development on NYC wildlife, and how protected lands and conservation efforts have become the last hope for native species.



SUNSET
BABE: PIG IN THE CITY
by George Miller. 1997. 97 min.
Our favorite optimistic pig gets lost in the big city in another imaginative display of set design and special effects. Babe's adventure through this new metropolis landscape reaffirms his values of friendship and togetherness to save the day once again.
SATURDAY, September 4th
SUNSET
COUNTRYMAN
by Dickie Jobson. 1982. 102 min.
NYC's beloved West Indian Parade was one of the many celebrations that was cancelled due to the pandemic last year, so we're giving the holiday special attention this Labor Day weekend. Countryman is an ambient journey into the realms of roots-reggae and mysticism. When two tourists crash their plane on the beach, they are rescued by real-life Rasta Countrymen, and overcome corrupt police plots with the help of rhythms from Marley, Toots, Scratch Perry, Aswad and more.
Join us before the screening for live DJ sets from local selectors, Jonny Go Figure and Selektah Twice.
SATURDAY, September 11th
SUNSET
MAN ON WIRE
by James Marsh. 2008. 94 min.
In an enthralling and symbolic display of spellbinding courage, Philippe Petit famously and illegally tightrope walks across the 1974 yet-to-be-opened World Trade Center. With themes of perseverance and personal achievement, Man On Wire is also a subtle but beautiful portrait of the Twin Towers: pillars of the NYC skyline.
THURSDAY, August 19th
SUNSET at Arverne Cinema
72-02 Gouverneur Ave 11692
CRYPTOZOO
by Dash Shaw. 2021. 95 min.
*Mature content. Viewer discretion advised.
Visionary comic book writer/artist/filmmaker Dash Shaw's vibrant animated feature follows cryptozookeepers through a richly-drawn hallucinatory world as they struggle to capture a baku (a legendary dream-eating hybrid creature) and begin to wonder if they should display these rare beasts in the confines of a zoo, or if the mythical creatures should remain hidden and unknown. Featuring the voices of Lake Bell, Zoe Kazan, Michael Cera, Louisa Krause, Peter Stormare, Thomas Jay Ryan, Grace Zabriskie and Angeliki Papoulia,
Cryptozoo
is written and directed by Shaw, with Jane Samborski directing the stunning animation.
Post-screening discussion with Dash Shaw, moderated by Bill Kartalopoulos. Free and open to the public.
Thank you Magnolia Pictures for helping organize this event!
UNDER THE LIP: DISPATCHES FROM BEYOND THE WHITEWASH
@ Rockaway Brewing Co.
Presented by Benny's Club
This series explores what it looks like to build a surf culture that is a part of our fragile, messy, creative, political lives on land. The program will take us from Hawai'i to California, South Africa, Iran, and Australia, mapping a diverse and international group of surf cultures.
Benny's Club
is a collective dedicated to creating space for poc and queer folks in surfing. All screenings are free and open to the public.
WEDNESDAY, September 15th
7:00pm
*This screening is part of our official festival! Stay tuned for more details.

We're closing the series out with a program that investigates how surfing changed in the 20 years between the mid-90s and mid-2010s, using the vision of one filmmaker, Andrew Kidman, as our experiment's control.


SPIRIT OF AKASHA SESSIONS
by Andrew Kidman. 2013. 6 min.
A celebration of the 40th anniversary of Morning of the Earth exploring the extent to which its spirit lives on. Stephanie Gilmore surfs a Dave Parmenter single fin in an attempt to recreate and inhabit the lines Michael Peterson drew in Morning of the Earth, before machismo and commercialization overtook surfing's mainstream. What results is one of the most inspired surf sequences this side of the millennium, and a glimpse at the kind of expression and freedom we might find beyond the strictures of the binary gender regime.
LITMUS
by Jon Frank & Andrew Kidman. 1996. 56 min.
A film that changed the course of professional surfing and influenced two generations to practice a more expressive and creative approach to wave-riding. Litmus, arguably, marks a turning point that expanded professional surfing beyond the competitive realm. The film seeks to reignite a spirit of self expression and creative exploration that got lost in the commercialization of the late 80s and early 90s.
WEDNESDAY, August 11th
7:30pm
SONIC SOUVENIRS
by Kai Neville & Mikey February / VANS. 2021. 28 min.
Kai Neville and Mikey February's
Sonic Souvenirs
is a document of decades of work in South Africa to slough off Californication in their surf culture, and a celebration of surfing as a part of South Africa's cultural fabric alongside music, language, and dance.

INTO THE SEA
by Marion Poizeau. 2017. 52 min.
Marion Poizeau's documentary follows Easkey Britton in her attempt to consciously introducing surfing as a tool for empowerment and expression—looking at what it means to bring surfing into a new place with the idea of uplifting women, without making assumptions about what the women of Iran want or need.
WEDNESDAY, July 7th
7:30pm
ALTERNATIVE LINES: A CONVERSATION WITH ANDY NIEBLAS
by Andrea Coleman. 2018. 8 min.
Andrea Coleman's candid short film on soul-styler Andy Nieblas of the Ajachemen Nation gives us a look into the heart-cognition of one of surfing's most expressive wave riders.

HEART OF THE SEA; KAPOLIOKA'EHUKAI
by Lisa Denker & Charlotte Lagarde. 2002. 57 min.
Lisa Denker and Charlotte Lagarde's moving biopic follows Rell Sunn, one of the most cherished and influential figures in contemporary surfing, from international competition to community building for the children of Oahu, through her decades long battle with breast cancer.

FRIDAY, July 2nd
7:30pm @ Rockaway Brewing Co.
ALICE NEEL
by Andrew Neel. 2007. 81 min.
Presented by filmmaker (and grandson) Andrew Neel in celebration of Alice Neel's retrospective at the Met Museum, up until August 1st, 2021.
Andrew Neel's documentary puts together the pieces of the painter's life using intimate one-on-one interviews with Neel's surviving family and personal archival video. The film explores the artist's tumultuous biography and the legacy of Alice Neel's determination to paint her era.
Post-screening discussion with director. Free and open to the public.
WEDNESDAY, June 30th
7:30pm @ Rockaway Brewing Co.
DISPATCH
by Robert Sarnoff. 2005. 40 min.
A genre bending docufiction about the drivers of the Belle-Rock car service.
Dispatch
takes us on a front seat journey to an emergency room, a 3:00 A.M. livery cab ride through Rockaway's hardscrabble streets, and a bank robbery. Marlboro dangling from his lip, cup of Lipton in one hand, cell phone and land-line pressed against his ear, Jim, the dispatcher smiles, "You sit here, you get a rush."
Post-screening discussion with director. Free and open to the public.
WEDNESDAY, May 19th
7:30pm @ Rockaway Brewing Co.
WE ARE by Eugene Kotlyarenko. 2021. 81 min.
Premiere!

To kick off our fresh spring series, we are pleased to welcome Eugene Kotlyarenko and his latest movie, WE ARE (2021). A tightly packed, resourcefully crafted New York tale - stamped in the recent past while looking into the bizarre future we now occupy. An intrepid ensemble of hapless anti heroes brings out a singular movie about family, power, and virtual reality. Starring Dasha Nekrasova, Keith Poulson, Vishwam Velandy, Andy Faulkner, and an 18 month old Lucien Fleischner.a

Post-screening discussion with director. Free and open to the public.




This summer Rockaway Film Festival is delighted to partner with Tribeca Film Festival to present two 'first and only features' as part of Tribeca's
Borough To Borough
program. In addition to being the only feature films of each director, both films are 90's city flicks with particular relevance in 2021.
The screenings will be held outside at the
Beach 30th Street playground
and are free to the public, with registration.
THURSDAY, JUNE 10
5:30PM
BELLY by Hype Williams, 1998, 96 min
In his feature film debut, DMX stars as a self-assured gangster born and bred in Queens, NYC. Packed with music icons like Missy Elliott, Nas, Jay-Z and Method Man, it's the only feature film from music video master Hype Williams. With its super-stylized fisheye shots and sensuously saturated colors, Belly is an ode to the 90's hip-hop aesthetic.
FRIDAY, JUNE 11
5:30PM
JOHNNY MNEMONIC by Robert Longo, 1995, 96 min
The first and only feature film from visual artist Robert Longo, Johnny Mnemonic is a sci-fi prophecy of the current world. Johnny, played by a pre-Matrix Keanu Reeves, is a human data courier in the dystopic future 2021. He battles corrupt corporations and internet overlords during a global pandemic, all to recover the memories he exchanged for data storage.

26 years after its original release, Robert Longo has revisited his cult classic Johnny Mnemonic, converting it into black & white. This marks the premiere of Longo's black & white version of the film.

TRANSMISSSION 2020:
Rockaway Film Festival was formed to bring movie-lovers together from across the peninsula. We esteem those special places where people are held collectively captive in the dark, attention surrendered to the screen. This year, the pandemic has forced us to reconsider how cinema spaces can take shape and we have embraced the internet's capacity for remote connection. For five days this October, we will broadcast a sequence of films guided by isolation and escapism, representing where our attention has been directed and redirected in 2020. The program is rooted in Rockaway and gripped by the current moment of our nation and planet.
We work hard to provide meaningful cinema at minimal cost to the public. This year,
our entire program is free
. Please consider making a
tax-deductible donation
to support future screenings.
*streaming schedule is eastern standard time
WEDNESDAY, OCTOBER 21
7:00PM
2 LIZARDS: EPISODE 1
Orian Barki and Meriem Bennani - 2020, 2'
This animated Instagram series surreally yet authentically represents the anxiety and isolation felt by New Yorkers during Covid-19. In Episode 1, the 2 Lizards discuss social distancing and enjoy Miles Davis's "It Never Entered My Mind" with their neighbors from their rooftops.
RAMMELLZEE
Rolf Waeber and Andreas Honegger. Produced by Galerie Renée Ziegler, Zurich - 1985, 20'
A rare film portrait of the visionary artist, rapper and Far Rockaway native. This experimental short captures Rammellzee in performance and at work in the studio during a 1985 residency at Zurich's Ziegler Galerie. Nowadays, many might call Rammellzee an Afrofuturist, a descendant of Sun Ra and George Clinton, a peer of Basquiat, and a harbinger of all that came after. It's arguable that he understood and articulated the radical implications of the emergent hip-hop movement more clearly than any of his contemporaries. This brief, hallucinatory film may be the best summation of his work
-Thee Mighty Redeemer
ALICE COLTRANE
St. Clair Bourne for Black Journal TV. Distributed and copyrighted by WNET - 1970, 15'
In discussing her husband's legacy, Alice Coltrane reveals her undeniable influence on John Coltrane's career. This gorgeous 16mm film offers a rare glimpse into the home and life of Alice Coltrane three years after John's death. She discusses her devotion to family and ever-present spirituality while demonstrating her hypnotizing musical talent.
7:40PM
MILFORD GRAVES FULL MANTIS
Jake Meginsky and Neil Young - 2018, 91'
A poetic compilation of the heart sounds of legendary percussionist and Jamaica, Queens native, Milford Graves. Interweaving archival and contemporary footage, MILFORD GRAVES FULL MANTIS examines the joyful rhythms of Grave's life.
Introduction by Jake Meginsky.
THURSDAY, OCTOBER 22
6:00PM
BEACH SESSIONS

Organized by Sasha Okshteyn - 2020, 9'
Beach Sessions Dance Series
returned for its sixth season in August 2020 on TikTok with TikTok Challenges created by New York-based choreographers Moriah Evans, Kayla Farrish, Jack Ferver, Gerard & Kelly, Loni Landon, Katrina Reid, Pam Tanowitz, and Gillian Walsh.
While we all can't experience public live performance, this summer's program encouraged the viewer to get outside where they can, learn a phrase, and repost on their personal TikTok profile, performing virtually on a stage in front of millions.


PIER KIDS

Elegance Bratton - 2019, 85'
Elegance Bratton's debuting feature film, PIER KIDS follows Queer and Trans Youth of Color as they navigate homophobia, gentrification, welfare, and their biological and chosen families. This intimate portrait delivers hard-hitting truths about the Christopher Street Pier Kids of NYC.
RUTHLESS LOGIC
Xavier Cha - 2018, 14'
Xavier Cha removes a martial arts scene from its anticipated background and places it in a highly stylized landscape of muted color. RUTHLESS LOGIC is a metaphorical demonstration of the mental gymnastics involved in identity formation and a super slow-motion study of the precision, power, and performance of Hong Kong Kung Fu.
8:00PM
SHAKEDOWN
Leilah Weinraub - 2018, 71'
Her first feature, Leilah Weinraub's SHAKEDOWN intimately grinds through the so-named, now-shuttered Black Lesbian club in Los Angeles. Weinraub's playful gaze celebrates escapism and sexual expression in underground Queer nightlife.
Remote discussion with Elegance Bratton & Chester Algernal Gordon following the program.
FRIDAY, OCTOBER 23
7:00PM
2 LIZARDS: EPISODE 7
Orian Barki and Meriem Bennani - 2020, 5'
This animated Instagram series surreally yet authentically represents the anxiety and isolation felt by New Yorkers during Covid-19. In Episode 7, the 2 Lizards participate in NYC protests. A news broadcast shows protestors talking about systemic racism, police violence and impeding white guilt.
SPECIAL FEATURES
James N. Kienitz Wilkins - 2014, 12'
Consisting of three contrived interviews all recounting the same dream-like event involving the mysterious Andre, SPECIAL FEATURES teeters at the intersection of technology and truth in media.
Introduction by James N. Kienitz Wilkins.
7:25PM
SPIN
Brian Springer - 1995, 58'
Pirated satellite feeds revealing U.S. media personalities' contempt for their viewers come full circle in Spin. TV out-takes appropriated from network satellite feeds unravel the tightly-spun fabric of television—a system that silences public debate and enforces the exclusion of anyone outside the pack of journalists, politicians, spin doctors, and televangelists who manufacture the news. Spin moves through the L.A. riots and the floating TV talk-show called the 1992 U.S. presidential election.
- Video Data Bank
8:25PM
MAN OF THE PEOPLE
Amir George - 2019, 17'
MAN OF THE PEOPLE is a political thriller surrounding the legacy of Chicago mayor Harold Washingston. A complex unfolding of his two campaign runs leading to his sudden and mysterious death during his second term.
Remote discussion with Amir George and Nadia Hallgren.

BECOMING
Nadia Hallgren - 2020, 89'
With the upcoming election looming, relish in the positivity and perseverance of Michelle Obama. Rockaway resident Nadia Hallgren travels across the world with the former First Lady as she tours her new memoir, BECOMING, spreading a message of hope.
SATURDAY, OCTOBER 24

10:00AM, 11:30AM, 1:00PM
YOGA WITH ALEX AUDER
Through the yogic exercise, Alex Auder weaves humor, consciousness, and truth to churn some time well spent. Join one of New York's great teachers for a Saturday morning stretch on the web.
4:00PM
BUILD THE WALL
Joe Swanberg - 2020, 57'
BUILD THE WALL tackles the fantasy of isolation, showing the appeals — drawing peacefully in the woods, tending to pot plants — but also a healthy dose of unsocialized behavior, anxiety about aging, and dealing with old friends with divergent life paths.
- Kentucker Audley
Starring Kent Osborne, Jane Adams and Kevin Bewersdorf, a longtime Rockaway resident who also composed the score and will introduce the film.
5:05PM
END OF THE SEASON
Jason Evans - 2020, 13'
Shot in Oregon as it approaches the off-season, this gorgeous black-and-white portrait of Matsutake mushroom hunters meditates on the possibility of freedom through isolation.
AN OCCURRENCE AT ARVERNE
Robert Broadhurst - 2020, 7'
A man arrives at an unknown home with an unknown agenda. Filmed in the off-season in Arverne, Robert Broadhurst's short film puts the viewer in charge of how the story unfolds.
5:25PM
ROSA
Suha Araj - 2020, 23'
While working at her aunt's flower shop, Rosa takes her job underground when she begins a side business of shipping undocumented bodies to their home countries for burial.
EVICTION
Steve Loff - 2006, 5'
Real-time footage of a family being forcibly removed from their Harlem home.
INSIDE WOMEN INSIDE
Christine Choy & Cynthia Maurizio. Produced by
Third World Newsreel
- 1978, 21'
A disgraceful example of the United State's justice system, INSIDE WOMEN INSIDE tells the stories of women in prison in the 70's. Testimonials of their regularly violated human rights illustrate profound isolation not only through confinement, but also through neglect and degradation. Despite the most destitute of circumstances, these women demonstrate staggering strength in their ability to organize and make demands.
Thanks to the generous contributions of The Women's Film Preservation Fund of New York Women in Film & Television, INSIDE WOMEN INSIDE has been preserved.
6:15PM
SEVEN YEARS IN MAY
Affonso Uchôa - 2019, 42'
In a night in May, seven years ago, Rafael was arriving home from work. When he was opening the gate, someone called his name. He looked back and saw people he didn't know. Rafael left his house carried by the unknown people and never came back. Since then he lives as if that night has never ended.
Remote discussion with Affonso Uchôa following screening.
7:40 PM
NOTHING BUT A MAN
Michael Roemer - 1964, 96'
Duff (Ivan Dixon), a single-father railway worker new to town, falls in love with Josie (Abbey Lincoln), a schoolteacher and daughter of the disapproving local preacher, in Jim Crow Birmingham. They fight to survive together in a place where every aspect of daily life—work, relationships, parenthood, Church—is tainted by pervasive, systemic racism. A noted landmark of independent cinema, which features a nearly all-black cast and is said to have been Malcolm X's favorite film, Nothing But a Man holds a significance that stretches far beyond its groundbreaking production history. Every performance, every emotion, every interaction is of such clarity and depth that this masterpiece is one of the rare films whose greatness can never be overstated.
-Metrograph

SUNDAY, OCTOBER 25
1:30PM
KIDS PROGRAM
This educational presentation focuses on weird words and creatures, followed by a virtual visit to Rockaway's vibrant ecosystems with JBRPC using
ArcGIS StoryMaps
. Learn about the plants and animals that call Rockaway home, the environmental threats they face, and how we can work together to protect Rockaway beaches and parks.
MYSTERIES OF VERNACULAR
Jessica Oreck
Originally produced for TED, this bite-sized animated series about the history of language. In the wake of the pandemic, we consider the words "Quarantine," "Window," "Zero," & "Inaugurate."
ARTHROPODA!
Jessica Oreck
A series about the life-in-miniature of creepy crawlies - their lives, histories, and surprisingly many virtues. You may find that the animals we love to hate are actually, remarkably lovable.
HORSESHOE CRAB'S CROWN
Heather Feather and Valentina Gallup
Enjoy Heather Feather and Valentina Gallup's collaborative children's book about the enigmatic horseshoe crab in this visual story-time.
PIPING PLOVER PILGRIMAGE
Sina Bear Eagle, Audrey Bartow & the Gateway National Recreation Area Interpretational & Education Team - 2020, 7'
A piping plover puppet show!
The Jamaica Bay-Rockaway Parks Conservancy (JBRPC) is a non-profit public-private partnership that is dedicated to improving the 10,000 acres of public parkland throughout Jamaica Bay and the Rockaway peninsula for local residents and visitors alike. Learn more here.
2:15PM
GOOFY SHREDS
GOOFY SHREDS returns for its third year of righteous surf and skate moves. This year's compilation kicks off with footage from
Black Surfing Association
's BLM paddle-outs and a word from Lou Harris, founder of the East Coast Chapter of BSA.
PADDLE OUT AT ROCKAWAY BEACH - JUNE 20, 2020
Valeria Gelman - 2020, 3'
PADDLE OUT IN REMEMBERANCE OF GEORGE FLOYD
Liz Magee & Taylor McNulty - 2020, 1'
DRONE FOOTAGE OF PADDLE OUT
Ronald Weaver II - 2020, <1'
NU RYTHMO
Sam Smith - 2019, 12'
DUCT TAPE ROCKAWAY
Sam Fleischner - 2019, 4'
PRINCE OF THE PENINSULA
Etan Blatt - 2020, 4'
BEACH GENIUS
The Man Who Films - 2019, 15'
3:15PM
EVERYTHING IS DIFFERENT NOW: PORTRAIT OF A PANDEMIC
RISE PROGRAM -(2020)
Watch as youth share their personal stories and reflect on life during the COVID-19 pandemic. This film is a collection of original short films created by students who participated in RISE's Shore Corps Program this summer. Mentors and students will talk about the process and engage the audience in a Q&A session after the film.
RISE Mentors: Amy Sultan, Nick Nehez & Matthew Septimus
RISE Students: Samea A., Winnifred A., Howard A., Leila B., Beatrice B., Eden C., Fiha F., Ethan F., Natasha H., Tanzim H., Mazonne H., Savion H., Aidan L., Charlene L., Ann M., Daniel O., Marco P., Sophia P., Ramizah T., Linyuhui Z.
Rockaway Initiative for Sustainability & Equity (RISE) is a community-based non-profit organization dedicated to inspiring all generations of Rockaway residents to care for their environment and community and provides enriching youth programs that advance the social equity and physical well-being of a vibrant, coastal community in Queens.

4:00PM
ANIMATED SHORTS: THE INBETWEENS
As we retreat into our inner spaces, what will we notice, in ourselves, and of the outer world? How will we confront the unknown and make sense of the unfamiliar? This program explores how animators have used the moving image to bring their deep discoveries to the surface.
PROFESSOR H ▭ Amanda Bonaiuto. Music by Chris P. Thompson - 2020, 1'
NO STORIES NOW ▭ Chris Bishop - 2017, 4'
AND I (Y YO) ▭ Gabriela Escovar, Sound Design by Alex Steinmetz - 2017, 4'
HOME ▭ Lisa Fasol - 2018, 2'
CHELLA DRIVE ▭ Adele Han Li. Sound/Music by Davy Sumner - 2016, 4'
AIRTIME ▭ Allegra Jones - 2016, Runtime 3'
BODY SPLASH ▭ Greg Condon, 2005, Runtime 3'
HUSKIES ▭ Lilli Carré. Writing & Sound by David Sprecher and Lilli Carré. Voice by Mary Emmerick - 2018, 7'
GATHER + LISTEN ▭ Adebukola Bodunrin - 2014, 5'
UGLY BUT GOOD ▭ Jordan Wong - 2016, 4'
GLASS BOX ▭ Izzy Liberti - 2018, 4'
NEIGHBOURS ▭ Norman McLaren - 1952, 8'
Curated by James Bascara.
James is an artist, illustrator, and educator living in Brooklyn, NY. He grew up in Millstone, New Jersey, studied engineering at Rutgers University, then went on to study illustration at the School of Visual Arts in NYC. He works in a variety of mediums exploring the idea of mythology through animation, art books, ceramics, and teaches illustration and animation at Parsons School of Design.
Remote discussion with James Bascara, Greg Condon, Amanda Bonaiuto, Buki Bodunrin, Gaby Escovar, Adele Li, Izzy Liberti, Jordon Wong and Chris Bishop following screening.

5:30PM
BELOW THE BRAIN
Sam Fleischner, Tony Lowe, Olivia Wyatt, Wills Glasspiegel - 2010, 59'
This year the pandemic also canceled New York's most bacchanal event - the West Indian Day parade on Labor Day Weekend. In 2010 four filmmakers set out with cameras to capture the colors, sounds, energy, and rhythms of night into day. The result is an immersive concentrate that celebrates the triumpant vibrations of Caribbean culture.
Intro/Outro by Sam Fleischner.
OCTOBER 17-21, 2019

▱
REMEMBRANCES
We lost a number of great filmmakers in the last year. Sown throughout this year's festival are shorts from some of our favorite late moving-image heroes. We will not forget their legacy of images in power.
THURSDAY, OCTOBER 17
7:00 PM
SNOWBLINK CONCERT
Los Angeles based musician, Snowblink, will open the festival and grace our cinema with her enchanted vocals and pop hooks. Don't miss this intimate event with a singular performer.
CHASSÉ
Michella Bredahl - 2019, 31'
Chassé is a picturesque look on a group of women and their experiences with neglect and love. The film uses the form of a diary to depict their inner and most intimate thoughts on childhood and hope. The dance is their sanctuary - they use it to arm themselves against the reality they live in. The young women long for love, but the dark side in which destructiveness can feel like a cleansing, threatens. When love has always been accompanied by neglect, how does one learn to love? The Spanish narrator, who knows both sides, guides us through the darkness. Produced by Pernille Tornøe and National Film School of Denmark.
North American Premiere. Michella Bredahl in person.
8:00PM
SHORTS 1: TRANSIT╱IONAL NEW YORK
These shorts capture modes, moments, and motions of transition in NYC.
WILLIAMSBURG
▱
Jonas Mekas - 2002, 11'
BERLIN / NEW YORK Jack Waters - 1984-86, 14'
INTERIOR N.Y. SUBWAY, 14TH ST. TO 42ND ST. G.W. Bitzer - 1905, 6'
DAYBREAK EXPRESS
▱
D.A. Pennebaker - 1953-57, 5'
NY, NY: A DAY IN NEW YORK Francis Thompson - 1957, 15'
GO GO GO Marie Menken - 1964, 12'
FRIDAY, OCTOBER 18
7:30 PM
BLOW THE MAN DOWN
Bridget Savage Cole & Danielle Krudy - 2019, 90'
The Connolly Sisters (Sophie Lowe and Morgan Saylor) are in mourning, but between a dead stranger in the ocean, a missing murder weapon, and the increasingly shady behavior of their recently deceased mom's friends, they've barely had a chance to register their loss. The audacious debut feature from co-directors and screenwriters Bridget Savage Cole and Danielle Krudy blends elements of thriller and the darkest of comedies to present something wholly entertaining and wickedly original. Don't miss this festival favorite, recently acquired by Amazon Studios.
Post-screening Q&A with film composer, Brian McOmber.
SATURDAY, OCTOBER 19
11:00 AM
LOVER'S WIND (BAADEH SABAH)

Albert Lamorisse - 1978, 71'
The wind that blows across Iran's deserts, mountains, old settlements and new cities has a name: Baadeh Sabah. Sometimes he blows alone, sometimes with other winds, and other times he quarrels with his brother, the mischievous Baadeh Div. Baadeh Sabah is the poetic narrator in this extraordinary ode to Iran, which is mostly made up of aerial footage akin to the perspective of the wind itself. Director Albert Lamorisse (The Red Balloon and inventor of the game Risk) died in a helicopter accident while finishing production. Lamorisse's wife and son completed the film, which received an Oscar nomination shortly before the Iranian Revolution.
Presented by Sean Price Williams.
☆ FREE SCREENING
1:00 PM
SHORTS 2: REGULAR OLD GOOFY SHREDDIN' (TAKE TWO!)
Matt Lily presents another rare VHS skate film from his secret, internet-free, vault. Check out vintage Rockaway beach surf footage and fresh footage from the shores of Rockaway Beach and Puerto Rico from Shane Murphy.
3:00 PM
ONE MINUTE FOR ONE IMAGE
▱
Agnes Varda - 1983, 26'
Une image c'est ça et le reste // A photo is that and everything else.
Agnes Varda considers her favorite photographs in this experimental TV series.
TITIXE
Tania Hernández Velasco - 2018, 62'
A mourning tree, dancing sprouts, ghosts, stories and forgotten seeds. This is a Mexican family's very last attempt to cultivate their land.
New York Premiere.
5:30 PM
SHORTS 3: TALK TO ME HOW
Where do you start when you stand on opposite sides? Centering conversations both private and public, the films in "Talk to me how" foreground the personal, touching on the fraught dynamics of family, masculinity, and various generational and ideological divides. Organized by Dessane Lopez Cassell.
7-7-94 FOR MY BABE Paige Taul - 2018, 4'
THE PROMISE Paige Taul - 2018, 6'
LYNDALE Oli Rodriguez & Victoria Stob - 2018, 24'
CIVIL WAR SURVEILLANCE POEMS, PT. 1 Mitch McCabe - 2019, 15'
Post screening Q&A with Mitch McCabe, moderated by Dessane Lopez Cassell.
7:30 PM
JEZEBEL
Numa Perrier - 2019, 88'
In a cramped Las Vegas apartment, 19 year old Tiffany struggles to find her place. She enters a world of internet fetish cam girls in order to survive after her mother's death. An unflinching and authentic portrait of poverty, womanhood, and blackness, JEZEBEL raises questions about agency and exploitation. Numa Perrier stars in this semi-autobiographical directorial debut.
New York Premiere in collaboration with MYUZ. Organized by Dessane Lopez Cassell. Numa Perrier in person.
SUNDAY, OCTOBER 20
11:00 AM
A SILENT VOICE
Naoko Yamada - 2016, 130'
After transferring to a new school, Shoko Nishimiya, a deaf girl, navigates her changing friend group. Richly animated, this coming-of-age story delves into social issues like bullying and disability.
Masters of Anime, Kyoto Animation stands out as one of the most progressive animation studios in the world. In an industry that notoriously favors men, Kyo-Ani is known for prioritizing women. They protect their workers by offering salaries, rather than the common freelance fees of studio animators. This July, Kyoto Animation was victim of a terrible arson attack, one of the worst in recent Japanese history. We dedicate this screening to the victims.
1:30 PM
EMBODYING URBAN COASTAL KNOWLEDGE
MANAGED RETREAT
Nathan Kensinger - 2018, 18'
A portrait of three NYC neighborhoods that were purchased by the New York State government in the aftermath of Hurricane Sandy, to be demolished and returned to nature as part of the city's first 'managed retreat' from rising sea levels.
Filmmaker in person.
AS IF SAND WERE STONE
Ben Mendelsohn - 2019, 35'
An essay documentary examining the making and remaking of urban waterfronts in New York City. Narrated by landscape architect Gena Wirth, the film analyzes underwater dredging as a key infrastructural process in the production of urban space. The film combines observational footage of New York's massive harbor deepening project with a series of self-reflexive research spirals that take place within the director's imagined computer desktop. As a result, the project not only explores the making of urban coastal landscapes, but also how these sedimentary landscapes are entangled with digitally mediated spaces of discourse and image.
World Premiere.
WATER AND POWER
Pat O'Neill - 1989, 57'
This 1989 masterpiece by Pat O'Neill is a moving meditation on industrialization, focusing on the dystopic desert created by Los Angeles's vast water consumption.
Nathan Kensinger and Ben Mendelsohn in person.
4:30 PM
SHORTS 4: FEMALE BODIES & BRIDGES
Portraits of/from Barbara Hammer and Carolee Schneemann — legendary amplifiers of the female voice in the NYC avant-garde scene.
Presented by MM Serra, in collaboration with the
Film-Makers' Cooperative
, to benefit the preservation of films made by women.
AUGUST 10, 2010 MM Serra - 2019, 4'
BARBARA HAMMER LENDS A HAND Leighton Pierce - 2012, 1'
TRIP TO CAROLEE Coleen Fitzgibbon - 1973/2011, 5'
CAROLEE, BARBARA AND GUNVOR Lynne Sachs - 2018, 9'
SPLIT DECISION Bill Brand - 1979, 15'
DYKETACTICS
▱
Barbara Hammer - 1974, 4'
MEAT JOY
▱
Carolee Schneemann - 1964, 10'

Q&A with MM Serra and Lynne Sachs following screening.

6:00 PM
SHORTS 5: ANIMATED FICTIONS
Flesh and costumes. Light and line. Conflict and cultivation. This program of contemporary and retrospective independent animation ponders: what makes an image, what forms an identity?
Organized by Caitlin Craggs.
GIRL FIGHT Lauren Gregory - 2017, 6' on loop before program
TRAVELING LIGHT
▱
Jane Aaron - 1985, 2'
LO - Ted Wiggin 2017, 3'
THE MISSING PIG
Cecilia Corzo - 2018, 4'
WINNERS BITCH Sam
Gurry - 2018, 7'
GUIDANCE David Delafuente - 2018, 4'
WINDOWS Ingo Raschak - 2017, 1'
AGUA VIVA Alexa Lim Haas - 2018, 7'
A POEM PLAY Nancy Kangas and Josh Kun - 2018, 1'
VOCABULARY Becky James - 2016, 4'
MOM'S CLOTHES Jordan Wong - 2018, 5'
BULLETS Nancy Kangas and Josh Kun - 2018, 1'
HEDGE Amanda Bonaiuto - 2018, 6'
Q James Bascara - 2016, 4'
ASPARAGUS
▱
Suzan Pitt - 1979, 18'
*Some adult themes. Lauren Gregory, Ted Wiggin, Ingo Raschka + Skip Blumberg in person.
8:00 PM
INITIALS S.G.
Rania Attieh & Daniel Garcia - 2019, 93'
An aging, Argentine, Serge Gainsbourg wannabe struggles to deal with a career he can't seem to get on track, an affair he doesn't want, and a crime he didn't mean to commit. Starring one of Argentina's favorite actors, Daniel Fanego alongside the brilliant Julianne Nicholson, in a hilarious and beautifully crafted film you won't forget. An award winning favorite from this year's Tribeca Film Festival.
Rania Attieh & Daniel Garcia in person.
MONDAY, OCTOBER 21
6:00 PM
GREETINGS FROM FREE FORESTS
Ian Soroka - 2018, 98'
Underground resistance is made literal in Ian Soroka's debut feature, which excavates the buried histories of the Partisan Liberation Front, who resisted the Fascist occupation of Yugoslavia during World War II. Through rich landscape cinematography, haunted archival images, and the vivid testimonials of local hunters, foresters, tour guides, and historians, the film traces the hidden historical currents beneath Southern Slovenia's verdant terrain, exploring cave hideouts, quarries, archaeological sites, unmarked graves, and even a subterranean bunker that became a film archive. Winner of DocLisboa's Grand Prix.
8:00 PM
MIDNIGHT FAMILY
Luke Lorentzen - 2019, 90'
One of this year's most thrilling documentaries that pushes the genre of verite filmmaking to new frontiers. Set in Mexico City's wealthiest neighborhoods, the Ochoa family runs a private ambulance, competing with other for-profit EMTs for patients in need of urgent help. As the Ochoas try to make a living in this fraught industry, they struggle to keep their dire finances from compromising the people in their care.

In a special collaboration with Riis Park Beach Bazaar, Rockaway Film Festival presents a program of favorite fantastic worlds. Our heroes embark on noble quests, enter magic realms, and return irrevocably changed in tales of boundless imagination. Visually spectacular, technically singular, these emblems of adventure are treasured by moviegoers of all ages.
JUNE 8, 2019
SUNSET
THE PRINCESS BRIDE
Rob Reiner - 1987, 98"
A story within a story, a dream within a dream, Rob Reiner's 1987 fantasy THE PRINCESS BRIDE is a deliciously self-aware modern classic awash in swashbuckling duels, protracted battles of wits, improbable plot twists, and compulsively quotable dialogue. A deservedly beloved film and a delightfully clever commentary on the perennial power of storytelling to capture the imagination.
JULY 13, 2019
SUNSET
THE DARK CRYSTAL
Jim Henson and Frank Oz - 1982, 93
On the faraway planet of Thra, the balance has been disrupted. Muppet masters Jim Henson and Frank Oz's THE DARK CRYSTAL (1982) is an epic fusion of ornate puppetry, analog animatronics and grim fairy tale. In this cult classic, Jen, the determined orphan, must find a magic crystal shard to restore harmony between the gentle Gelflings and the sinister Skeksis.
Live music performance by HIGHLIFE (Sleepy Doug Shaw) before the show, at 7:30pm.


Film presented by Museum of the Moving Image Executive Director, Carl Goodman, in person.
AUGUST 10, 2019
SUNSET
SPIRITED AWAY
Hayao Miyazaki - 2001, 125"
A dazzling masterpiece of animation, Hayao Miyazaki's Academy Award winning SPIRITED AWAY (2001) tells the story of ten-year-old Chihiro, who is separated from her parents at an abandoned amusement park and enters a spirit world. Chihiro confronts witches, gods, and shape-shifters in a dangerous journey full of Japanese mythology, and must use her cunning and courage to find her way back to her family.
This is an outdoor beach screening — bring your towels, blankets, beach chairs, and good vibes! The show starts at sundown.
Suggested admission is $10.
Easily accessible by car, bus & ferry. Parking is free after 6pm. More info about getting there
HERE
.
SATURDAY, JANUARY 19, 2019
323 74th Street, 11692
Suggested Donation: $10
5:00 PM
MINDING THE GAP
Bing Liu - 2018, 93"
One of 2018's most beloved documentaries and Sundance Special Jury Award winner. Three young men bond together to escape volatile families in their Rust-Belt hometown. As they face adult responsibilities, unexpected revelations threaten their decade-long friendship.
7:00 PM
LABIAL QUINTET
Courtney Stephens - 2015, 11"
Created specifically for the 2015 Cunt Art event at Veggie Cloud in Los Angeles, Labial Quintet was prompted by a claim made by a waxing aesthetician that there are five distinct varieties of labia shape. Browsing pornography, a live waxing session, surgical footage, and other visual "evidence," the film explores the veracity of this claim, and what it means to typologize a body part.
A POEM IS A NAKED PERSON
Les Blank - 1974/2015, 93"
An ineffable mix of unbridled joy and vérité realism,
A Poem Is a Naked Person
presents the beloved singer-songwriter and Rock and Roll Hall of Famer Leon Russell as filmed by documentarian Les Blank between 1972 and 1974. Blank's camera lets us into the world of Russell and his friends and fellow artists in and around his recording studio in northeast Oklahoma, capturing intimate, off-the-cuff moments and combining them with mesmerizing scenes of Russell and his band performing live. This singular film about an artist and his community never got an official theatrical release and has attained legendary status.
9:30PM
AFTER PARTY @
ROCKAWAY BREWING COMPANY
Music by
The Skells
+ honky tonk Americana from DJ Mighty Redeemer.
THURSDAY, OCTOBER 18

7:00 PM
SKYSCRAPER
Shirley Clarke - 1959, 20"
This Academy Award winning short film, documents the complete construction of the now infamous, 666 Broadway. A riveting reflection on the cycles of destruction and renewal that make up the life of a great city, filtered through a wry, beatnik sensibility that Clarke refined with the help of notable collaborators Teo Macero and D.A. Pennebaker.

THE SOCIAL LIFE OF SMALL URBAN SPACES
William H. Whyte - 1980, 58"
A documentary exploring public plazas and the ways that people behave in them. While Skyscraper is told from the point of view of an artist, this film takes the stance from a city planner, architect.

THE ROAD TO MAGNASANTI
John Wilson - 2017, 15"
In 2010, an obsessed gamer designed the perfect game of Sim City. Achieved through a repeating pattern of clustered high rises, "Magnasanti" exposes the hellish consequences of top-down civic design. In his new documentary, John Wilson explores how New York City is creeping closer and closer to realizing this fictional metropolis.

John Wilson in person.


FRIDAY, OCTOBER 19

7:00 PM
DIAMANTINO
Gabriel Abrantes & Daniel Schmidt - 2018, 92" Diamantino, the world's premiere soccer star loses his special touch and ends his career in disgrace. Searching for a new purpose, the international icon sets on a delirious odyssey where he confronts neo-fascism, the refugee crisis, genetic modification, and the hunt for the source of genius. Cannes award winner and official selection at New York Film Festival.

Gabriel Abrantes & Daniel Schmidt in person.

SATURDAY, OCTOBER 20
10:00 AM
THE LITTLE FUGITIVE
Morris Engel, Ruth Orkin, Raymond Abrashkin - 1953, 80"
Fearing that he shot his older brother, a young boy runs away to Coney Island. and gets money by returning soda bottles for their deposits.
1:00 PM
REGULAR OLD GOOFY SHREDDING
GNAR GNAR
Sam Salganik - 2008, 23" (KROOKED)

Presented by Matt Lilly.
MEETING
Thomas LaGrega, Paul Schmidt - 2018, 30"
SURFIN BIRD ODYSSEY
- Pat McCarthy - 2018, 13"
+ More surprises
3:00 PM
MOTHERLAND
Ramona Diaz 2017, 94"
Taking us into the heart of the planet's busiest maternity hospital, the viewer is dropped like an unseen outsider into the hospital's stream of activity. At first, the people are strangers. As the film continues, it's absorbingly intimate, rendering the women at the heart of the story increasingly familiar.
This event is a collaboration with

POV

, PBS' award-winning nonfiction film series
.
5:00 PM
ECSTATIC MALE
What does it mean to be a human, to be a man? The Ecstatic Male program presents a series of documentary portraits of men who are a true ones of the kind.
CRUISING WITH JERRY RAE Kelly Loudenberg (2013), 7"
MAN IS NOT A SIMPLE CREATURE VI Matt Webster (2014), 12"
HE WHO DANCES ON WOOD Jessica Beshir (2017), 6"
GARY'S BIRDS OF MIDDLETOWN Sam Fleischner (2003), 7"
THERE WERE ALWAYS DOGS NEVER KIDS Alessandro Magania and Max Tannone (2017), 24"
Jerry Rae, Rob Burn, Alan Sklar, Matt Webster, Jessica Bashir and Sam Fleischner will be present for a discussion following screening.

7:00 PM
MEDIUM COOL
Haskell Wexler - 1969, 111"
The "cooler" the medium, "the more someone has to uncover and engage in the media" in order to "fill in the blanks." This film questions the role and responsibilities of television and its newscasts through a news reporter who finds himself becoming personally involved in the violence that erupts around the 1968 Democratic National Convention. Shot at a time of great social and political counterculture upheaval in the United States, Wexler's film reflects the conflicted nature of a country divided by issues of race, gender, poverty, crime, and war. This is verite filmmaking at its finest: mixing scripted and documentary techniques to present the enduring issues that we still face today, 50 years late.

Presented by Alan Sklar of THERE WERE ALWAYS DOGS NEVER KIDS.
9:00 PM
PATSY, THE FILM

Laura Nesci Carroll - 2018, 22"
This abstract-narrative super 8 film documents the making of a new Patsy record in and around Rockaway Beach, Queens.

Dance party with DJ's Andrew Vanwyngarden and Taka.
SUNDAY, OCTOBER 21

10:00 AM
THE RED BALLOON Albert Lamorisse - 1956, 34"
A red balloon with a life of its own follows a little boy around the streets of Paris.+
THE BLACK BALLOON
Josh & Benny Safdie - 2012, 21"
A black balloon, alien in a crowded land, searches for some semblance of companionship after losing all of its friends.

11:00 AM
MICROCOSMOS
Claude Nuridsany & Marie Pérennou - 1996, 80"
An immersive, live-action exploration of insect life in meadows and ponds. Seeing this film in a cinema is a Biblical experience.

1:00 PM
SHORTS PROGRAM 1 : NEW NARRATIVES
8 MILLION MILES FROM HINTAHOOD Justin Denis (2018), 15"
CAROLINE Logan George & Celine Held - 2018, 12"
OLD HABITS Sophie Ellsberg - 2018, 13"
OLLEJ Zachary Heinzerling - 2018, 25"
BLADES Kevin Hayden - 2018, 6"

Justin Denis, Sophie Ellsberg, Zachary Heinzerling and Heather Kramer will be present for a discussion following screening.

3:00 PM
SHORTS PROGRAM 2 : FAMILY FORMATION
THE GIRL WITH TWO HEADS Betzabe Garcia - 2018, 13"
NATURE SACRÉE Michella Bredahl - 2018, 26"
NATTO Iva Radivojavec - 2018, 8"
FAMILY NIGHTMARE Dustin Guy Defa - 2012, 10"
74 REELS Natasha Giliberti - 2018, 14"

Michella Brendahl and Natasha Giliberti will be present for a discussion following screening.

4:30 PM
VINCENT MOON PRESENTS
Vincent Moon built a following over a decade ago with Le Blogotheque, where he filmed pop musicians performing songs around the streets of Paris. Since then he has become a nomadic filmmaker who travels into remote pockets of the earth and records musical rituals. He is a modern day Alan Lomax with the eye and dedication of a singular artist. Vincent will be in Rockaway to present and discuss exclusive new films from various ceremonies around the globe.

Filmmaker in person.

7:00 PM
WAH DO DEM
Ben Chace & Sam Fleischner - 2009, 76"
A hapless hipster wins a cruise from Brooklyn to Jamaica but when he gets there, the boat leaves without him. With only a pair of shorts he must find his way to the embassy across the island in Kingston. 10 year anniversary screening with filmmakers in person. Each program is followed by a discussion.